Eating Report Part 1 of 2
Eating Report – Stockton to Tonopah, NV to Kanab, UT to Williams, AZ to Las Vegas, NV Aug 30, 2004 to Sep 4, 2004.
This is a report about a five day trip with me on my 1999 Cardinal Red Triumph Legend with the 36 liter Givi side boxes and Don Mardle from Palmerston North, New Zealand riding my 1988 black BMW K75C.
Day 1 – Stockton to Tonopah
Starting out around 0800 on Monday, August 30th we were headed to Riverbank and Nifty's Café for hot cakes. The usual route along Mariposa Road had a sign indicating a 30 minute delay for Road Construction, so off on Austin Road to French Camp Road to Hwy 120 into Escalon. Then Railroad Avenue into Riverbank. At Nifty's I learn that in New Zealand hot cakes are made sweet and Don M. had never heard of eating them with eggs and/or a breakfast meat. So Don M. just had a short stack and a cup of coffee. He thinks us Americans ruin the coffee beans, too dark. Don M. has a coffee bean roasting house and retail outlet in Palmerston North. I usually have the chicken fried steak and eggs, but with a long ride ahead, I opted for a couple of scrambled eggs and toast. Nifty's is an old style Coffee Shop right on Hwy 108 in Riverbank. Nifty's used to have a drive-in across the parking lot, but the McD's and other fast fooders have driven the locals out of business.
After breakfast we stayed on Hwy 108 and merged into Hwy 120 at Oakdale. We miss out on Steve Medlins House of Beef in Oakdale (also has a big Hershey factory – Oakdale is close to dairys and almonds). Anyway the House of Beef makes a great tri-tip sandwich. But it is only 25 minutes since breakfast. Hwy 108 and Hwy 120 remain together until Chinese Camp where we continue along Hwy 120 as Hwy 108 heads toward Jamestown. The weather has gotten quite hot, a bit odd since we have risen some 3,000 feet in elevation. Another 30 miles and I notice that Old Priest Grade is blocked off (do not know if that is permanent) so we took the much longer New Priest Grade Road. Old Priest Grade was a bit of a dangerous road, since it was about a mile and a half of 20 per cent grade. A few miles later we stop for gas in Groveland then off through Yosemite and Tioga Pass. In my opinion Tioga Pass although the highest of the Northern California Passes is the least scenic.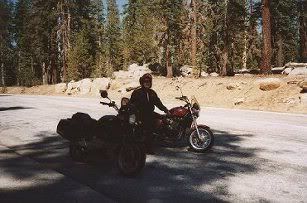 We stop where Hwy 120 meets Hwy 395 about a mile south of Lee Vining for gas and a quick lunch of a slice of pizza. The pizza was actually pretty good. This was at the gas stop and everything else place. The temperatures, which were pleasant in Yosemite have become triple digits as we take off on Hwy 120 and Hwy 395 which conjoin for about 5 miles. We then head along Hwy 120 east of Hwy 395. The road was built without any grading for elevation changes. It rises and falls along with the surrounding terrain, a bit like a mini roller coaster ride. At the Nevada border Hwy 120 becomes Nevada Hwy 6. There is an abandoned border town shortly after entering Nevada, just an empty casino, gas station and a couple of other buildings. We continue on down the road to Tonopah. It is hot.
Dinner is at the Ramada Tonopah Station where we are staying. Another new item for the Kiwi is my Chicken Fried Steak. The food at the Tonopah Station is not very good. Just passable, but it is the best place to eat in Tonopah. Don M. has fried chicken which was frozen prepared chicken. Dessert is a couple of plums that he picked from a street side tree. If someone knows of a place to eat in or around Tonopah, please let me know before the RRR. Breakfast was also at the same place where I choose to eat the oatmeal. Now you know that the food is not too good.
Day 2 – Tonopah to Kanab
We start along Hwy 6 stopping on the highway to let a herd of wild mustangs cross the road before getting to Warm Springs. Warm Springs is shown on my AAA map as a town but turns out to be an abandoned motel resort with about 50 rooms and a few other abandoned buildings. Here we turn onto the Extraterrestrial Highway, Nevada Hwy 375. On this road it is easy to see how people can hallucinate. Except for slowing down and stopping for Open Range cattle and seeing a coyote or two there is nothing but sand and sagebrush. I am not sure what the cattle are grazing on. The temperatures have already climbed into the triple digits. We get to Rachel some 112 miles from Tonopah. Not seeing any gas pumps we enter the parking lot(?) of the Ali'en Café. I ask an attractive young woman just leaving the café if she knows of a gas station. It turns out she is an Italian tourist with a limited knowledge of English. Her boy friend comes out of the café and speaks better English, and thinks he saw a gas pump up the road a bit.
We go inside where we talk to the grandson (in his 40's and also named Don) of the founder of Rachel (established 1968). The town is named for his oldest aunt and first born of the founder. Don number 3 tells us that his mother is manning the gas pump about a quarter mile up the frontage road. (I guess it is the Main street of Rachel, but it looks like a frontage road to me, since it parallels the highway.) Don M. buys an Alien and an Area 51 tee shirt as I order a half order of biscuits and gravy. Don M. has never heard of such a dish so I let him sample my food (no Kiwi comment and it was an excellent biscuit and gravy). After talking over the proposed continuation route to Kanab via Zion Park with Don #3 and the others in the café. We settle on heading south on Hwy 93 to Hwy 168 to Glendale, NV and I-15.
It is HOT. My little thermometer shows 112*. At the Nevada – Arizona border on I-15 is the town of Mesquite, NV. It has a bunch of new modern very big casino resorts. Although Mesquite is on the Arizona border it is only 40 miles from St. George, Utah. I need to stop at Mesquite to check out the food there. A not memorable lunch in St. George at Shoney's and off we go to Zion National Park.
We get to Kanab and the Aiken's lodge where we are staying. The owner is a bit of a grouch and absolutely refuses to consider making a reservation for the RRR. So after a shower in the smallest shower and toilet room that I have ever encountered not aboard ship we walk over to the Parry lodge where I make my reservations for the Red Rock. Dinner is at Houston's Trails End where I have the baby back ribs since the bbq ribs are boneless. Don M. has the boneless bbq ribs. Which are pretty good really, but what is a bbq rib without the bone. I suspect that there are many really senior citizens that come through Kanab and would rather not have the "mess" of eating ribs. The food at Houston's is really very good. But I just checked their web site and the restaurant is for sale:
http://www.houstons.net/
Day 3 Kanab to Grand Canyon to Williams
We walk to Houston's for breakfast. Don M. has the hotcakes with eggs and bacon, a first for him. I have the same and it is very good. We head off to take Hwy 89 instead of Hwy 89A. New Zealand has lots of mountains, but no deserts. So Don M. is more fascinated by cactus and red rocks and sand and straight roads than by trees and hills and twisties. We stop at a Bureau of Land Management Information building at Big Water, UT and it turns out that it has a very nice dinosaur exhibit. The curator complains to us that his bosses will not allow anything about the dinosaur exhibit on their road signage. Strange. From there we head to the Glen Canyon Dam at Lake Powell. I take a break while Don M. heads off to the vista point about 2 miles away.
It is too hot to eat. We continue along but stop just before Hwy 89 meets back up with Hwy 89A. There is an overlook where you can see for miles. At the overlook there are vendors selling trinkets. Don M. buys a feathery thing a ma bob for his young grand daughter. Next is a gas stop and rest stop from the heat in Cameron at the local Navajo marketplace and café. Off to the Grand Canyon with stops at Desert View, the Tusayan Indian village, Mather Point and the Bright Angel Lodge. Drink water. It's hot.
We race the Grand Canyon Railroad train down to Williams. Actually I think there is a forest fire starting up to the south as we catch and pass the old steam engine spewing smoke. We ride though most of Williams and head back toward I-40. The Marriot where we are staying is just off an exit to I-40. After a swim in the motel pool and a short stay in the spa, we head into Williams and Rod's Steak House:
Website Rod's Steak House
This is a must eat place if you are anywhere near Williams. We both have the New York strip sirloin and they are great.
To be continued with days 4, 5, and 6.